M1
Ultra lightweight and versatile mini solar robot.

Small and light (27kg without brushes)
Cleaning capacity up to 800m²/h
Water and waterless solar panel cleaning robot for all panel systems
Clean with only 1 operator

For smaller installations, glass roof, and window cleaning
The SolarCleano M1 makes your life easier thanks to its mini size and weight. An alternative solar panel cleaning solution to your solar PV installations and glass roof, it is now gaining increasing popularity in window cleaning.
Connects to standard garden hoses of 13-15mm in diametre and of 2.0 - 8.0 bar solar panel cleaning water pressure. Valves to regulate water consumption
System for waterless solar panel cleaning
Certified NO microcracks after electroluminescent test
Central electric switching box. Power supply by lithium-ion batteries enabling an autonomy of 3h
Helicoidal brushes of 0.8m with 2 bristle types for thin-film solar cells. Suitable for both wet and dry cleaning
High-end caterpillar tracks. Pressure on panel 3500Pa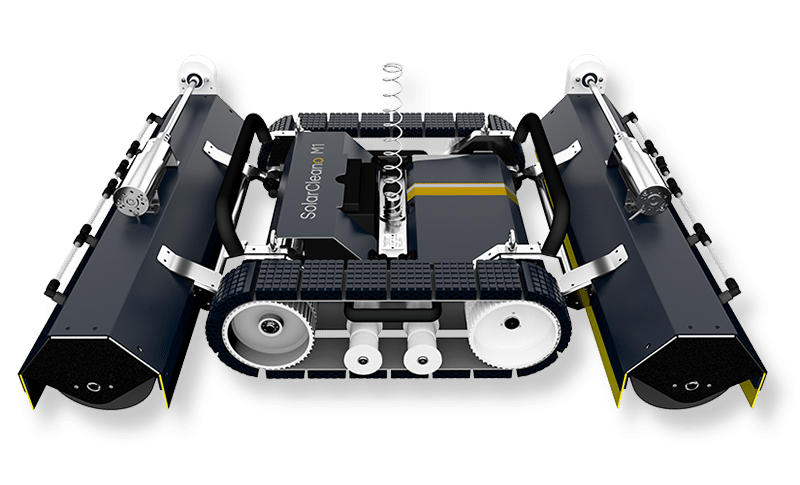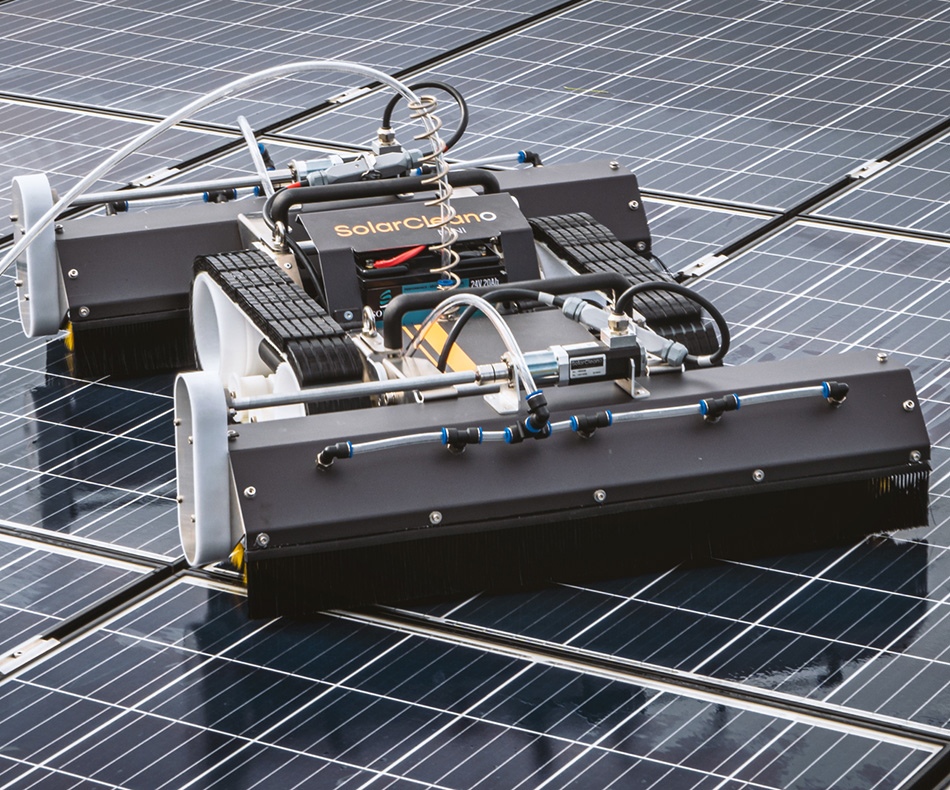 Fully modular design
The robot can be dismounted into 3 parts for easy transportation. The assembly and disassembly take 2 minutes. The SolarCleano mini solar panel cleaning robot can fit into any type of vehicle. Highly mobile and light, it can be conveniently carried and operated by one person.
Technical Data
1 year warranty
with dedicated after-sales service
| | |
| --- | --- |
| Length | 800mm |
| Width | 860mm |
| Height | 350mm |
| | |
| --- | --- |
| Total weight | 37kg |
| Brush width | 0.8m |
| Brush diametre | 170mm |
| Remonte control range | 200m |
Accessories
A list of compatible and interchangeable solar panel cleaning accessories that save your time and make your cleaning more efficient. All accessories can be mounted onto the robot without modifying the central unit. More accessories photos available in Gallery.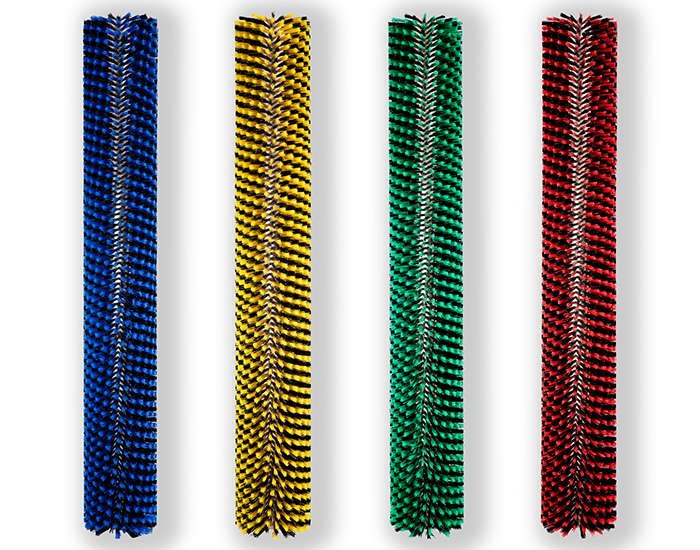 4 types of 0.8m brushes (blue / yellow / green / red)
Achieve highly efficient cleaning performance as a result to a range of fibres and rotative brush types, ideal for removing any type of dirt. Blue soft, yellow standard, green hard, red very hard.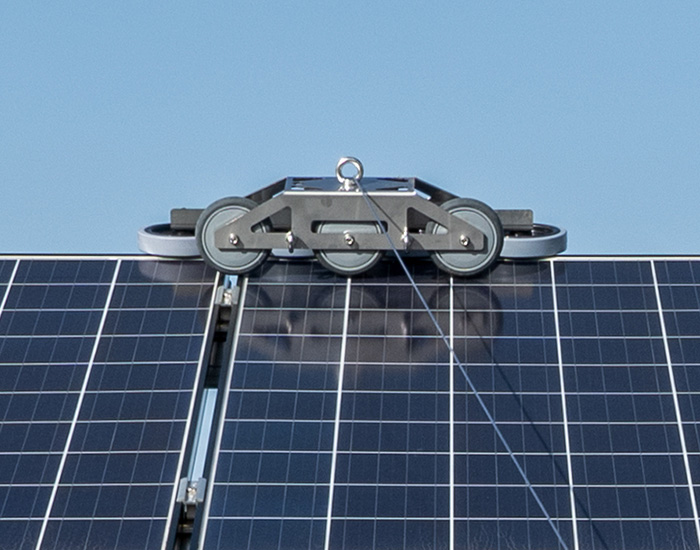 Safety glider
The safety system secures the robot for solar PV cleaning on panels with an inclination of more than 25°. It can also be paired with our 220cm solar panel rotating brushes for safe cleaning on solar installations with steep angles.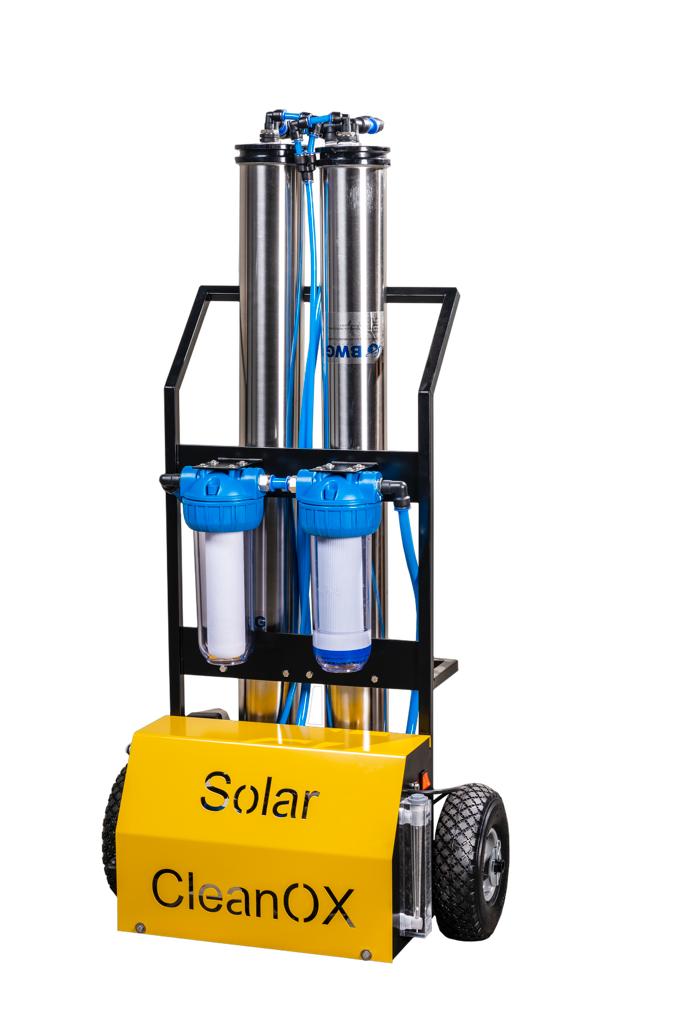 Osmosis system
Osmosis system makes your cleaning water purer with no residue on solar panels, avoiding the formation of stains or scaling that can reduce the amount of sunlight going through.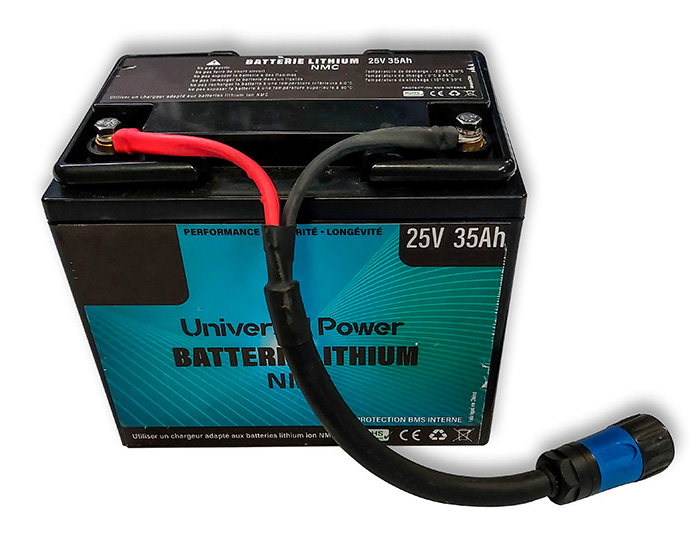 Additional battery of 35Amp
Avoid interrupting your cleaning job with an additional high-density battery at hand.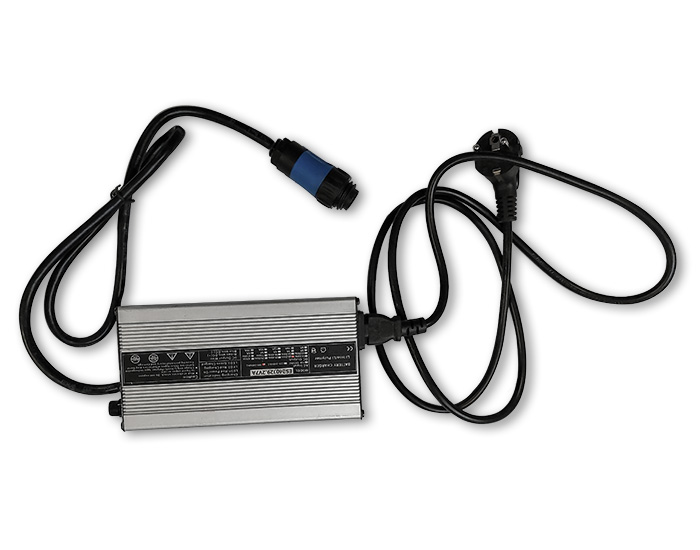 Additional charger of 7A
Charging several batteries at the same time = more robot autonomy hours = more efficient panel cleaning.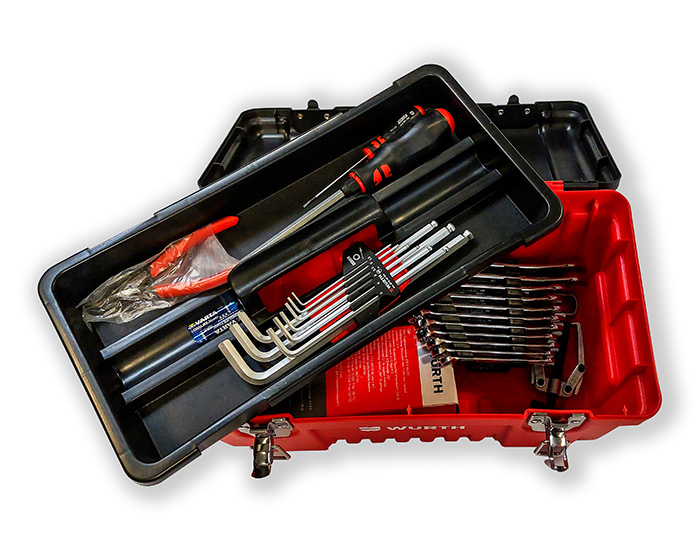 Toolkit
A box of assorted tools is essential to the maintenance of your cleaning robot. The toolkit includes screwdrivers, combination wrench, pliers, and more.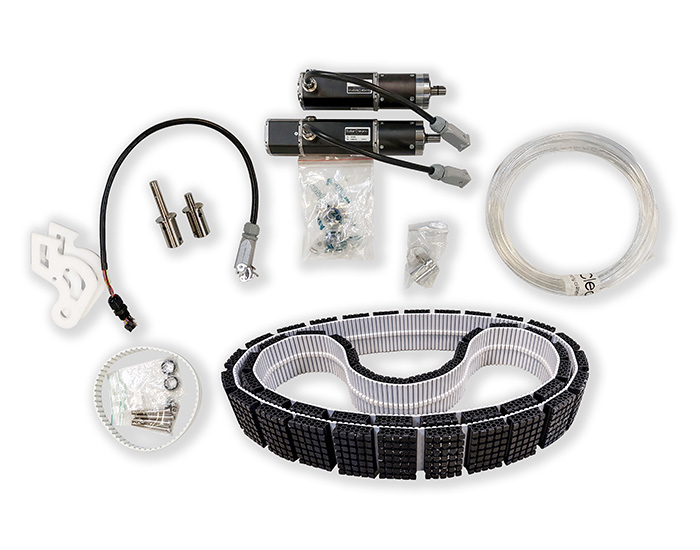 Spare part kit
Our cleaning spare part kit allows you to avoid down time by replacing parts of the cleaning robot whenever necessary, making the robot maintenance simple and fast. The kit includes 1 brush motor, 1 traction motor, 1 timing belt Courroie Brosse, 2 catepillar tracks, 2 bearings with support, 2 bearings for rear wheels, 1 water hose ∅10, 1 water hose ∅12, 1 short brush axis M8 x 70/nut, 1 long brush axis M8 x 70/nut, 1 coupling for traction motor, 2 tensioners for caterpillar, and 1 traction/ brush cable.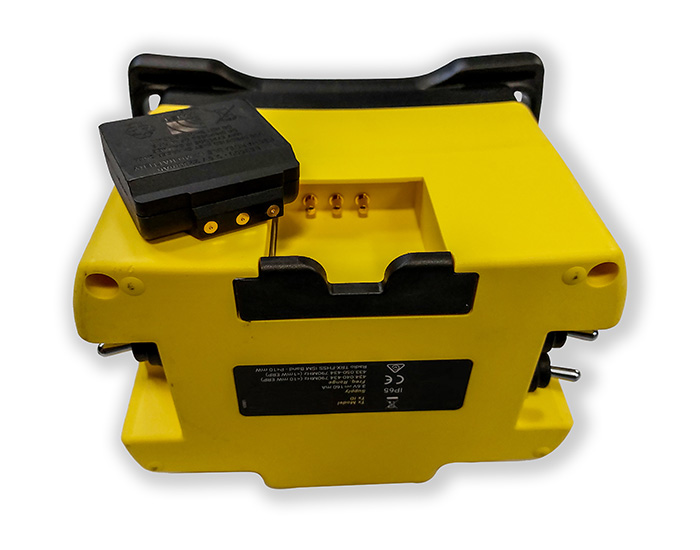 Remote control battery
Taking an extra battery for your remote control allows the robot to clean for a longer time. A simple initiative to make your solar panel cleaning more efficient and quickly restore your solar panel potency.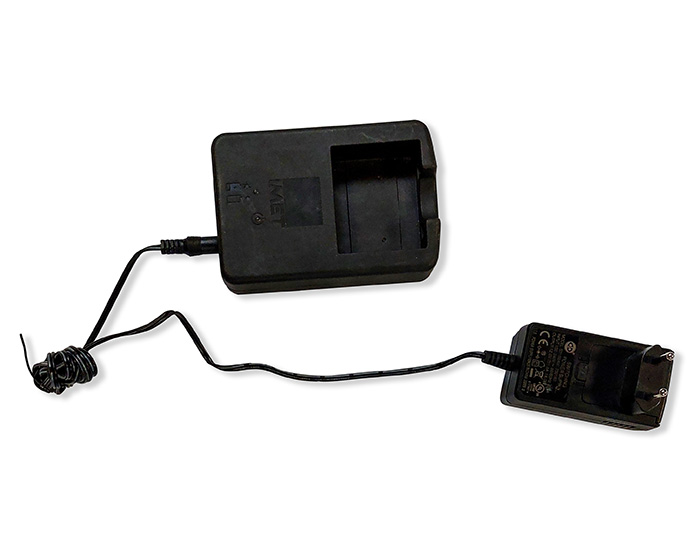 Remote control battery charger
If you have several batteries, make sure you have enough chargers!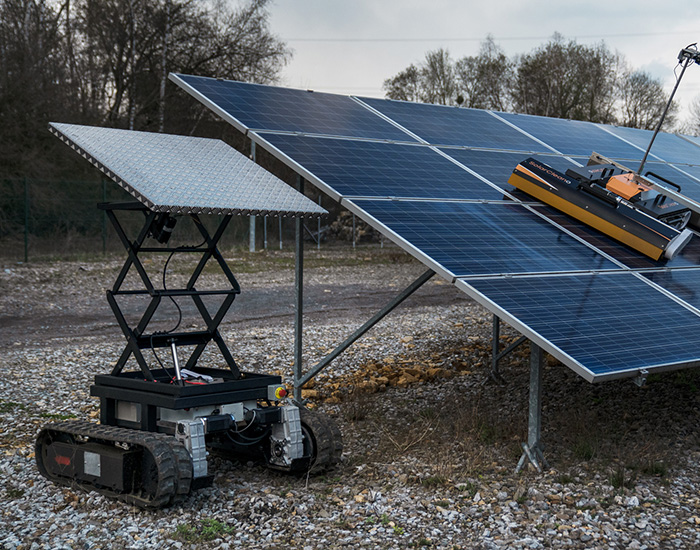 Solar robot transporter - T1
No need to worry about moving your solar panel cleaning robot - leave the job to the Transporter. It can easily and quickly carry your cleaning robot from one panel row to the next.